A Fresh Challenge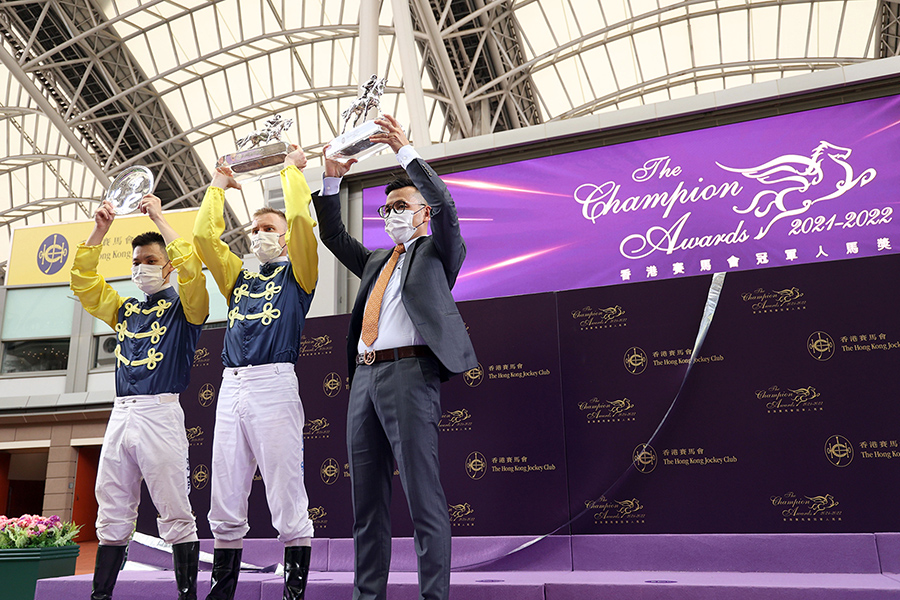 With another stellar season under their belt, Hong Kong's top racing talents are eager to kick off 2022/23
As one chapter closes, another begins; with barely time to absorb the gripping end to the 2021/22 term, Hong Kong racing is already in preparation mode for the next season.
The foundations have already been laid for 2022/23: the season has been bolstered with a record single-season prize money increase of HK$167 million to a purse of HK$1.62 billion, in what amounts to a massive vote of confidence in the jurisdiction's future. But even as we start this year's campaign in September, last term's heroes and champions warrant a revisit – and celebration.
Renowned for its dynamism, Hong Kong racing could scarcely have produced a more appropriate finale on 16 July, when its three leading individual honours were formally bestowed on Frankie Lor, Zac Purton and Matthew Chadwick.
While Lor's 90-84 margin over 11-time champion John Size ensured he was afforded a comfortable coronation march to Champion Trainer, and Chadwick's 55-50 buffer over Vincent Ho guaranteed a similarly seamless procession to the Tony Cruz Award for the best-performing homegrown rider, there were no such assurances for Purton.
Locked on 132 wins with Joao Moreira entering the final meeting of the season, Purton had two slim advantages – one more ride than the Brazilian on the 11-race card and one fewer dead-heat in his tally.
By the end of the 88th meeting – courtesy of a terminal quartet – Purton was anointed as a five-time Hong Kong Champion Jockey and his relief was palpable after sealing the title with victory aboard Douglas Whyte's Turin Redsun (都靈太陽) in the Class 1 Hong Kong Racehorse Owners Association Trophy Handicap (1600m).
The short-head margin served as an appropriate measure of the gap between Purton and Moreira, to say nothing of Whyte's role.
"I said a couple of weeks ago how ironic it would be if I was to win on this horse for Douglas, as I obviously knew I was booked to ride him. To seal the championship after everything Douglas and I have been through, it's much nicer to be his friend than his foe," Purton says, referencing his former rivalry with Whyte, who won the top jockey award 13 times before he became a trainer.
"Every [championship] is special in its own way and I want to pay respect to Joao as well. It's been a really tough season and a difficult three years for all of us here in Hong Kong with the Covid lockdowns, having to home-school the kids. We've both had our health issues, so it's been really, really hard.
"We both deserved to win it. It's tough that only one person can. It's energy-sapping, and we're both probably at the end of our tether, so it's nice we can close it today, go on holiday and come back again next season."
Reaching a career zenith after a 41-year stint with HKJC, Lor was typically self-effacing after denying his former mentor Size a record 12th crown.
"I need to thank the Jockey Club first; I joined the Club in 1981 and have been there for 41 years, and the Owners have been really supportive," says Lor, who repeatedly credited Size for his influence. "I have only had a trainer's licence for five years and I'm really happy to get the championship this season. This means local trainers can also get the championship."
Meanwhile, Chadwick ended Ho's three-year reign as the winner of the Tony Cruz Award with an inspiring return from chronic injury.
"It was definitely a good goal to have and I'm happy to take it home this year," Chadwick says of the Tony Cruz Award.
"It's a lovely achievement and it's named after my old boss. It's great to take a step in the right direction."
Chadwick was indentured to Tony Cruz before receiving his full licence in 2010 and is hopeful of getting more rides from his old boss in 2022/23.
"You always want to improve and hopefully he can give me some more support next season," he continues. "[I hope I can also] get some support from other trainers and achieve even better numbers next year."
Echoing the ambition of every jockey and trainer in Hong Kong, including newcomers Jamie Richards and Pierre Ng, Chadwick's sentiment sets the scene for another engrossing chapter in 2022/23.