Nurturing Future Talent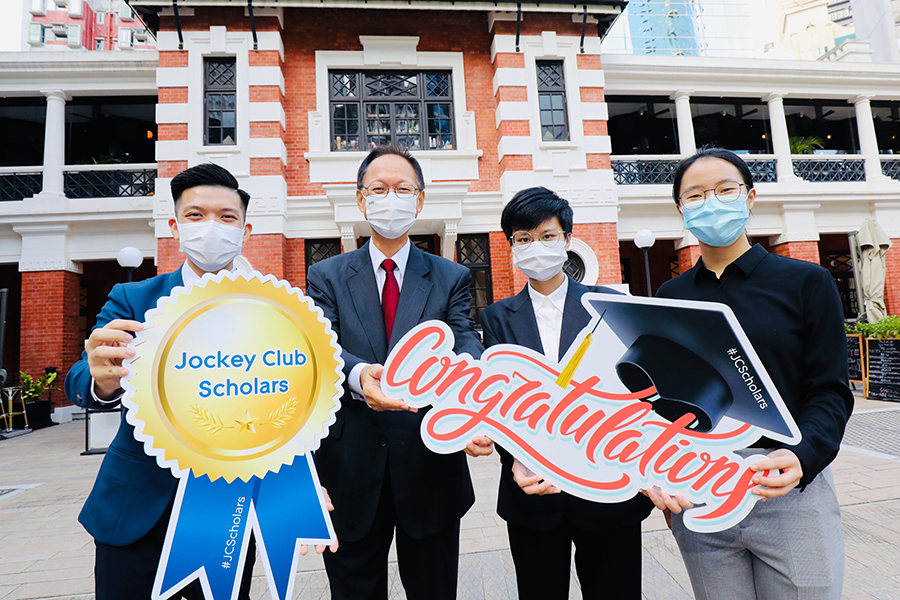 The Club promotes talent and capacity building by initiating and supporting projects that help young people achieve their potential
Staying active is an important part of a well-balanced lifestyle. It also helps develop positive attitudes and values in life, builds social cohesion, and promotes a healthy community in Hong Kong. In this year's Tokyo Paralympic Games, 24 athletes from the SAR competed in eight categories. For half of the team, it was their first time at the Paralympics, yet they managed to achieve extraordinary results, winning two silver and three bronze medals. Together with the Hong Kong team's recordbreaking haul at the Tokyo Olympics –one gold, two silver and three bronze medals – these events sparked a renewed sense of enthusiasm for sports and proved that differently abled people can also achieve great success as athletes.
The Club has a long tradition of supporting sports development in Hong Kong at both community and elite levels through numerous initiatives over the decades. Through a series of projects relating to the Sports for All charities strategy, the Club has sought to promote active participation by making sports fun and rewarding for people of different ages and abilities. The World Health Organization recommends at least 60 minutes of moderate to vigorous physical activity a day for kids and young people, but studies show children with disabilities still need to become more active in order to achieve health benefits.
To promote interest in sports and social inclusion, The Hong Kong Jockey Club Charities Trust has supported numerous projects to increase sports opportunities for children with disabilities. One example is the Splash Jockey Club SwimABLE Programme, which provides swimming and water safety lessons for Hong Kong children with special needs aged seven and above. The three-year project aims to help participating students improve their health and better integrate into society, and covers swimming lessons, a coach training scheme and a graduate volunteer scheme, as well as educational and promotional content.
Participants receive 20 hours of swimming lessons and the project is expected to directly benefit 550 young people and 60 carers over three years. Sixteen coaches will undergo the Special Needs Swimming Teaching Certificate training and be equipped with the necessary skills to continue providing lessons after the project ends, while 30 students will be eligible for volunteer training so they can assist in future lessons and events.
Sophie, a 15-year-old participant with a moderate mental handicap, is noticeably happier, more confident and physically healthier after completing just 10 lessons. "Sophie enjoys swimming, and seeing her and the coaches having fun together has made me very happy," says her mother. "I don't have high expectations for her future; I just want her to be happy and able to take care of herself."
Similarly, the Club's Charities Trust has supported the Jockey Club Community Project Grant – Special Olympics Golf Development Project, which is organised by Special Olympics Hong Kong. The project has given people with intellectual disabilities aged eight and above an opportunity to develop an interest in golf while also building their confidence and assisting them to integrate into society. Besides training budding athletes for everything from local competitions to the Special Olympics World Summer Games, the project also offers a train-the-trainer programme for those who are interested in spreading the love of golf to people with disabilities. The initiative also promotes the sport by organising community events and Unified Sports, a concept that encourages people with different abilities to join the same team and engage with one another through their common interest in sports, thereby helping shed the stigma of disability in society.
One beneficiary of the programme is Fong Hei-wa, a member of the Hong Kong Special Olympics golf team who lives with mental disabilities. Hei-wa was introduced to the programme in 2013 via his school and has since represented Hong Kong three times, winning a silver medal at the 2019 Special Olympics World Summer Games Level 4 Stroke Play 9 Hole competition in Abu Dhabi.
"Ever since he picked up golf, Hei-wa has become happier and more confident. That's the best thing that has come out of this experience," his father says.
The Trust has also funded Love 21 Foundation to organise the Jockey Club Love Healthy Life Sport and Nutrition Programme. The project will benefit about 330 students with Down Syndrome or Autism Spectrum Disorder, with the aim of improving their overall wellbeing through a balanced combination of physical activities and healthy diet.
This includes weekly sports classes ranging from tennis and football to Bollywood dance and hand-eye coordination skills. Professional dieticians are on hand to introduce healthy recipes and good eating habits, and monitor health data. Volunteers are available for logistical support and to act as buddies during sports classes. Participants are split into two cohorts with each enjoying a graduation celebration at the end of the year.
Thus far, total exercising hours have increased by 57% in the first four months of the year, and 6% of participants have lost enough weight to no longer be classified as obese. Moreover, 98% have expressed an increased awareness of healthy living.
Results like these and from the Club's other ongoing efforts to build a healthy community through supporting local sports development not only help participants and their families to enjoy the benefits of exercise, but they also increase public understanding of differently abled sports, contributing to the betterment of society.