Club-supported Clansmen exhibition opens to promote Chinese culture and traditions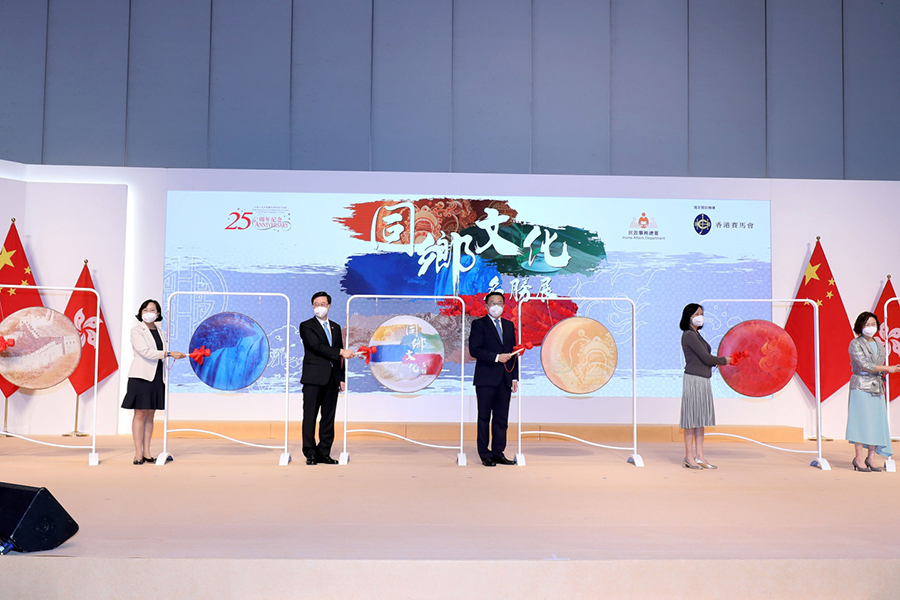 The Hong Kong Jockey Club is pleased to support the "Clansmen Culture Exhibition" through its Charities Trust. Organised by the Home Affairs Department, the exhibition is a showcase of Chinese culture and traditions which also seeks to connect citizens with their ancestral roots. The exhibition is one of many initiatives supported by the Club's approved donation of HK$630 million to the Government of the Hong Kong Special Administrative Region (HKSAR) to mark the 25th anniversary of the establishment of the HKSAR. The Clansmen Culture Exhibition opens on 6 July at the Hong Kong Convention and Exhibition Centre and runs until 12 July 2022, with free admission.
Club Chairman Philip Chen joined Chief Executive of HKSAR John Lee, Deputy Director of the Liaison Office of the Central People's Government in HKSAR He Jing, Secretary for Home and Youth Affairs Alice Mak, Permanent Secretary for Home & Youth Affairs Shirley Lam and Director of Home Affairs Alice Cheung in officiating at the exhibition's opening ceremony.
Club Chairman Philip Chen expressed his gratitude to the HKSAR Government and the Liaison Office of the Central People's Government for their support. "These are Hong Kong's intangible assets and being such it is vital that we do what we can to preserve them. More importantly, by bringing clans together to demonstrate their diverse culture and craftsmanship we can help younger generations better understand their history and heritage," he said.
The Home Affairs Department has invited 28 local clansmen associations to showcase traditional arts and crafts, including paintings and musical instruments, to promote cultural heritage. Visitors will also be able to gain insights into traditional festivals, customs and attractions. There will also be workshops on traditional Chinese handicrafts and food.
The Club has sponsored numerous official cultural heritage projects in support of the Central Government's vision of developing Hong Kong into an East-meets-West centre for international cultural exchange, as outlined in the National 14th Five-Year Plan. These include the recently opened Hong Kong Palace Museum and "The Hong Kong Jockey Club Series: Dunhuang: Enchanting Tales for Millennium" exhibition, which will be held in August.
Over the past 25 years, the Club has been able to increase its contributions to the community via its integrated business model. As a world-leader in the sport of horse racing and one of the ten largest charitable donors in the world, the Club is resolute in pursuing its purpose of acting continuously for the betterment of our society. Then, now, always, we are together with Hong Kong.