Let's JC VOLUNTEER TOGETHER and lend a helping hand in our community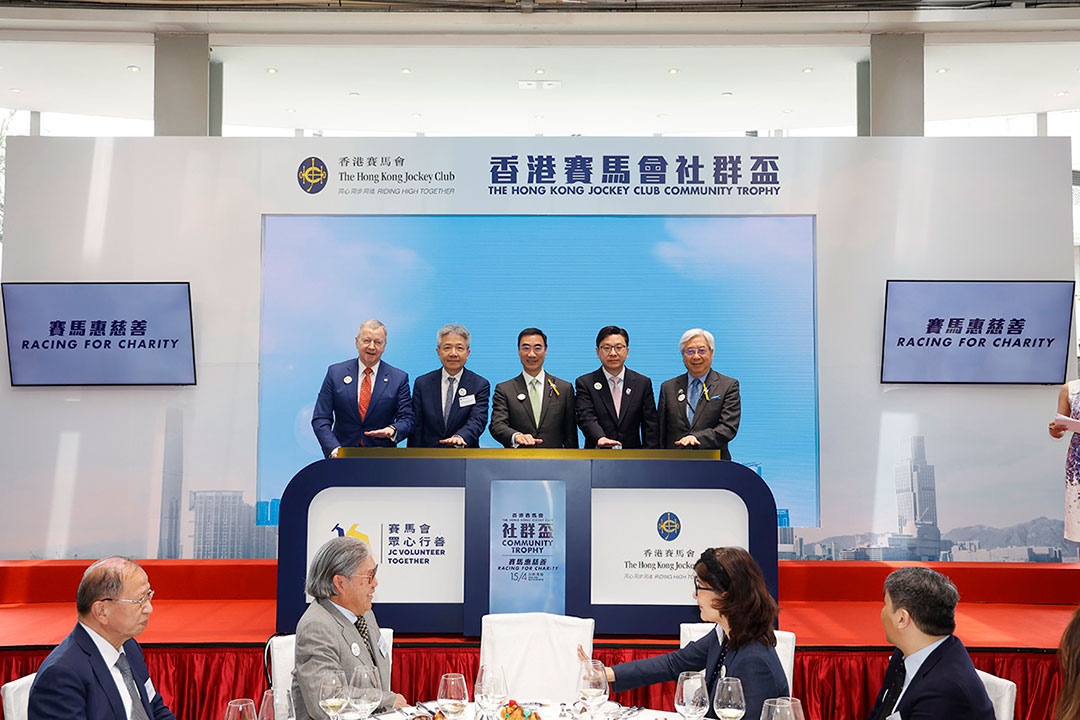 The Hong Kong Jockey Club announced today on 15 April the launch of JC VOLUNTEER TOGETHER, a major HK$300 million initiative to promote volunteerism in the community. The announcement was the highlight of The Hong Kong Jockey Club Community Day, which returned after a three-year absence due to the pandemic. With the theme "Racing for Charity - Citywide Volunteerism", the event, which was held at Sha Tin Racecourse, was attended by over 200 representatives. Officiating were HKSAR Government Secretary for Labour and Welfare Chris Sun, Club Chairman Michael Lee, Club Deputy Chairman Dr Eric Li, Club Chief Executive Officer Winfried Engelbrecht-Bresges and JC VOLUNTEER TOGETHER Advisory Committee Convenor Professor Stephen Cheung.
The Hong Kong Jockey Club Community Day is an opportunity to honour the Club's successful partnerships with Government agencies, NGOs, academic institutions and all those who contribute to the betterment of our society. Indeed the Club's support for its project partners goes well beyond financial. Together with its partners, the Club initiates and co-creates programmes targeting emerging or unmet community needs, while also working to build capacity in the community. That bond became even stronger during the pandemic, with the Club approving HK$2.9 billion on top of its regular charity donations to help 2,300 community organisations, care homes, schools and kindergartens.
The outstanding work of NGOs, charities and community agencies would not be possible, however, without the support of many thousands of volunteers. Indeed, the spirit of volunteering also extends to the Jockey Club, where Members and employees have volunteered their time through the Members' CARE@hkjc and employee CARE@hkjc volunteer teams.
This is why the Club has been pleased to support many volunteer projects over the years and to help many charities and agencies recruit and train volunteers. Over the last 10 years, more than 4.5 million people have benefited from volunteer projects supported by the Club's Charities Trust. Now, to further promote volunteerism, the Club is launching JC VOLUNTEER TOGETHER.
Club Chairman Michael Lee said, "We see JC VOLUNTEER TOGETHER as hugely beneficial for Hong Kong. A win-win for both the volunteer and for those they help. Above all a way to bring our community together – young and old, and from all walks of life – giving them a personal stake in the welfare of our city and the betterment of our society."
Secretary for Labour and Welfare Chris Sun expressed his appreciation for the Club's many contributions to volunteer service development. In particular, he hoped that JC VOLUNTEER TOGETHER would encourage many more people to donate their time, bringing hope and care to those in need.
JC VOLUNTEER TOGETHER is a five-year project to comprehensively promote citywide volunteerism. Launched in collaboration with 12 partner organisations it is designed to encourage and mobilise students, people aged 50+ and retirees as well as the general public to do good for the community. It comprises:
A school-based programme for primary and secondary school pupils, to nurture the volunteers and community leaders of the future.
A 50+ and retirees programme, to motivate older people to help others and to nurture an active and meaningful third age.
The JC VOLUNTEER TOGETHER PLATFORM. A one-stop platform to help people identify volunteering opportunities and to register for and keep track of their volunteering activities; to be launched later this year.
The 12 project partners are: The Boys' & Girls' Clubs Association of Hong Kong, Caritas Hong Kong, Evangelical Lutheran Church Social Service – Hong Kong, The Hong Kong Federation of Youth Groups, Hong Kong Young Women's Christian Association, Social Career, St. James' Settlement, Time Auction, Voltra, Agency for Volunteer Service, Hands On Hong Kong and Ying Wa College. Further details can be found on the JC VOLUNTEER TOGETHER website www.jcvolunteertogether.hk.
The Club's support for JC VOLUNTEER TOGETHER, like all of its charity donations, is made possible by its unique integrated business model through which racing and wagering generate tax and charity support for the community.
The Hong Kong Jockey Club
Founded in 1884, The Hong Kong Jockey Club is a world-class racing club that acts continuously for the betterment of our society. The Club has a unique integrated business model, comprising racing and racecourse entertainment, a membership club, responsible sports wagering and lottery, and charities and community contribution. Through this model, the Club generates economic and social value for the community and supports the Government in combatting illegal gambling. In 2021/22, the Club returned a total of HK$33.6 billion to the community. This included HK$27.0 billion to the Government in duty, profits tax and Lotteries Fund contributions and HK$6.6 billion in approved charity donations. The Club is Hong Kong's largest single taxpayer and one of the city's major employers. Its Charities Trust is also one of the world's top ten charity donors. The Club is always "riding high together for a better future" with the people of Hong Kong.